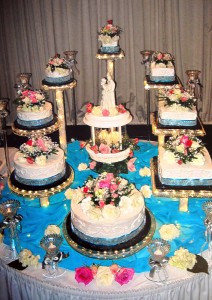 "Uncle Joe" started  the  bakery  after  returning  from  World  War  II.  Sandy, the current owner, came  to  work  after  training  under  Martha  and  Wesley  Wilton  in  1968.  The  Taylor's bought  the  bakery  in  the  spring  of  1992.
Sandy  has  become  the  only  woman  certified  Master  Baker  in  the entire state of Indiana.
Her younger son, Dan, joined  the  bakery  after  graduating  from  the American  Institute  of  Baking  and the Kelley  School  of  Business. Sandy's daughter, Becky, works  behind  the  scenes   as  inventory  manager of the various gift lines. Sandy's oldest,  son Tim, is a major in the army but makes sure to  come  in  several  times  a  year  to  act  as the official  taste  tester.